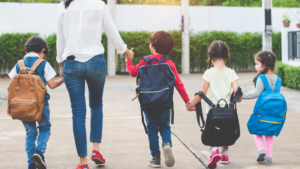 Back-to-school season is always a time of change and new beginnings. With school supplies to purchase, books to buy, and dorm rooms or study spaces to set up, it can feel like your home suddenly needs extra room. Luckily, BTA Storage in Rockwall, TX, offers the perfect self storage solutions to help you get organized and make this back-to-school season a breeze. Here's how:
Storing Seasonal Items
As the summer winds down, it's time to put away all the summer gear that won't be needed for a while. This includes pool floats, garden tools, or summer sports equipment that take up valuable space in your garage or shed. By utilizing self storage, you can declutter your home and make room for school supplies and seasonal fall items.
Creating a Study Space
A productive study environment is essential for academic success. If your home office or study room is filled with items that are not immediately necessary, consider moving them to storage. BTA Storage offers various sizes of storage units in Rockwall, TX, allowing you to find the right fit for your needs.
College Students and Storage
For college students, self storage can be an invaluable resource. Whether you're moving into a dorm room or off-campus housing, you'll likely need to downsize. Store your extra furniture, clothing, or personal items in a secure storage unit. With BTA Storage, you have the flexibility to access your belongings whenever you need them.
Organizing School Supplies
Buying in bulk can be cost-effective but may lead to clutter. If you've stocked up on notebooks, pens, or other school supplies, keeping them in a self storage unit can help maintain an organized home. This way, you can grab what you need as the school year progresses without tripping over excess inventory.
Emergency Storage for Sudden Changes
The school year is unpredictable, and plans can change rapidly. Having a self storage unit provides the flexibility to adapt to new situations. Whether it's a sudden move or a switch to remote learning, you can store or retrieve items at your convenience.
Tips for Using Self Storage Effectively
Label Boxes: Clearly label all boxes so you can easily find what you need later.
Climate-Controlled Units: For items sensitive to temperature changes, such as electronics or books, opt for climate-controlled storage units.
Security: Make sure your storage facility has adequate security measures. BTA Storage in Rockwall, TX, offers state-of-the-art security features to keep your belongings safe.
Back-to-school season is a hectic but exciting time. By utilizing self storage solutions from BTA Storage, you can streamline the process and focus on what truly matters—getting a great start to the new academic year.
Whether you're a parent, a college student, or a lifelong learner, BTA Storage in Rockwall, TX, offers flexible and secure storage options to meet your needs. Contact us today to find the perfect self storage solution for this back-to-school season.